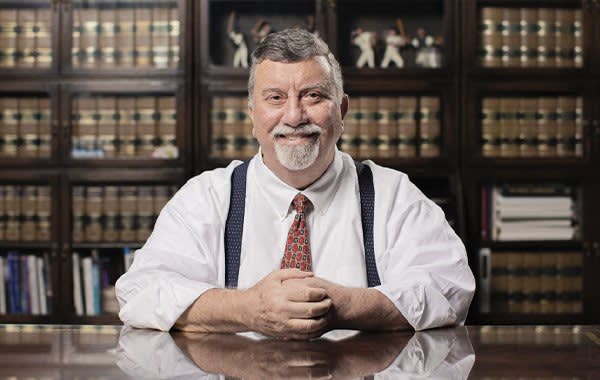 Attorney Thomas F. Brown, II has more than four decades of experience representing injured workers and helping them obtain the income benefits and medical treatment they need and deserve.

Tom primarily practices in the workers' compensation area, representing injured workers exclusively. He also maintains a substantial practice in the areas of Social Security disability and personal injury automobile accident cases.
Tom's interest in workers' compensation law started when he was a student at Woodrow Wilson College of Law in Atlanta, where he worked as a Governor's Intern at the Georgia State Board of Workers' Compensation as a law clerk. When he graduated, he worked as a claims adjuster for Kemper Insurance Company for two years before seeking an opportunity to practice law.
That opportunity came in the office of attorney Essley Burdine (a former Judge at the State Board of Workers' Compensation), who had more than 25 years of experience practicing law. Mr. Burdine had a thriving practice representing injured workers. In 1979 they formed Burdine & Brown and worked together for a decade until Essley Burdine retired in 1989, and died in 1991.
In practice now for more than 40 years, Tom continues to be enthusiastic about his work. Burdine & Brown's motto is "Compassionate Counsel – Tough Advocacy," and Tom wants his clients to know he and his staff care about them.
Tom is a 1970 graduate of The Citadel, the Military College of South Carolina, where he received a degree in Political Science. He served two years of active duty in the U.S. Army as a Lieutenant and was deployed to Vietnam for a year.
In 1989, Tom helped found the Workers' Compensation Clamants' Lawyers, a group of workers' compensation practitioners in Georgia that maintains great influence over workers' compensation issues. He served as the group's chairman in 1998 and still serves on the organization's Executive Committee. The WCCL has a strong reputation in the community and with the State Board of Workers' Compensation and is one of only two organizations that solely represents the interests of injured workers.
Tom estimates that 70 percent of his firm's focus is representing injured workers. The firm spends the other 30 percent of time and resources in the area of Social Security disability and personal injury resulting primarily from automobile accidents. Tom's clients find him a strong advocate for the injured and for the disabled. He has developed an excellent reputation in the community and is at the forefront of lawyers representing the injured worker/automobile accident victim and potential Social Security Disability applicants.
Tom credits his strong faith in Jesus Christ with leading him along legal pathways and He has enjoyed many years of Christian mission work in Uruguay, where he has helped build local churches and congregations in 25 trips to that country in the 19 years. He has organized the shipment of 500,000 pounds of clothing and goods to the people of Uruguay, and uses his own salary to help fund this mission work.
Tom firmly believes that he will spend the rest of his life serving Uruguay, and other South American countries. His guiding principles lie in The Great Commission found in the Scriptures, specifically Acts 1:8. Tom and his wife, Carmen, have formed Asado Ministries, Inc., a 501 c 3 tax-exempt charitable foundation to help channel donations from committed Church friends in Uruguay.
We fervently hope we can be a bridge between a wonderful but struggling Christian population in Uruguay with the vast resources we have in the USA. We seek to identify and connect the genuine physical, emotional and spiritual needs in Uruguay, with the ability of folks in the USA to help fund those needs in a way that enables the local population to continue their work for Christ and to cause them to feel empowered to do their work, not our work for them. We desperately seek their independence and pride in accomplishment and not something that will make us feel good back in the USA.
Education
J.D. - Woodrow Wilson College of Law

B.A. - The Citadel Military College of South Carolina
Bar Admissions
Professional Associations
Workers' Injury Law & Advocacy Group

National Association of Disability Representatives

Atlanta Bar Association

Georgia Trial Lawyers Association

National Organization of Social Security Claimants' Representatives
Awards
Martindale-Hubbell, Preeminent, 2020

Martindale-Hubbell, Client Champion - Silver, 2020